England 2001-2003: The Golden Era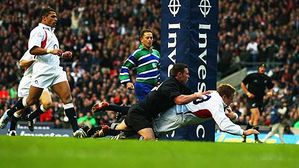 Between 2001 and 2003, England had surely the best team of all the time, they won against South Africa and Australia during 2001 November Tests, in South Africa during 2002 Summer Test, against All Blacks, Wallabies and Springboks during 2002 November Tests, the Six Nations 2001 and the Grand slam in 2003, in New Zealand and Australia during 2003 Summer Tour and the Rugby World Cup 2003 in Australia. With Jonny Wilkinson to his best, the rockets Robinson and Lewsey, the powerful winger Ben Cohen, the solid centers Greenwood, Tindall and Catt, the creative Dawson, the perfect forwards Thomson, Vickery, Johnson, Kay, Hill, Back and the emblematic captain Lawrence Dalloglio.
Have fun to watch the great tries and Wilkinson skills.