EPIC GAME 1: France vs New Zealand (Rugby World Cup 1999)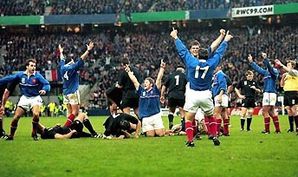 First compilation of "EPIC GAMES", in this one, I will make highlights of one of the best game in rugby history. To start, I choose the best game in rugby history, the Semi Final France against New Zealand during the World Cup 1999 in Twickenham... All Blacks were favorite because they had beaten France 4 earlier before, during the Summer Tour 54-7... The All Blacks took the lead after the first half and the beginning of the second with 2 tries of the Rugby Legend: Jonah Lomu... But after, there was the French Flair, and France scored 33pts in 28minutes with 3 beautiful tries scored by Dominici, Dourthe and Bernat-Salles!! France won the game 43-31!!
If you have liked the video, please click on ads...
Si vous avez aimé la vidéo cliquer sur une pub s'il vous plait...
Song: Sia - Breathe Me