Heineken Cup 2009/2010: Quarter Finals Highlights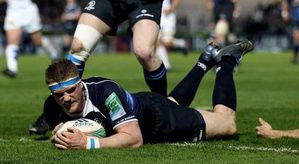 Lots of stars on the Heineken Cup field last week end, Shane Williams, Lee Byrne, Mike Phillips, Ngwenya, Jerry Collins, Heaslip, O'driscoll, O'gara, Geraghty, Leguizamon, Jauzion, Heymans, Jauzion and I forget a lot! Lots of tries with maybe the best individual try of the competition scored by Ngwenya who burned Shane Williams during Biarritz against Ospreys, hat-trick for Malzieu during Leinster-Clermont whereas heaslip scored 2 tries, the Jauzion's come back against Stade Francais!!
Munster, Toulouse, Leinster and Biarritz will be in Semi-Finals
Click on ads if you like the vids!! Thanks a lot!!